THE BLUEGILL GRILL is open!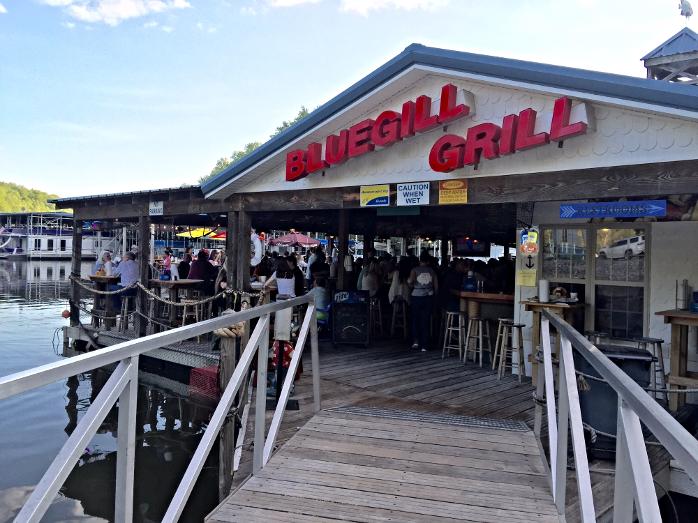 SUN: 7-8
MON: 11-8
TUE/WED/THU: 7-8
FRI/SAT: 7-10
Tims Ford Lake
912 Old Awalt Road
Tullahoma, Tennessee 37388
35 20' N, 86 13' W
931-455-3151
Welcome to Holiday Landing Marina & Resort! Located on Tims Ford Lake in Tullahoma, we are southern middle Tennessee's most popular destination for lakeside cabin rentals, pontoon boat rentals, and boat slip leases. Holiday Landing is also the home of the only full-service restaurant on Tims Ford lake, the Bluegill Grill.
The Bluegill Grill is now open for the summer season!
We serve a traditional Southern breakfast each morning, followed by a lunch menu of fried seafood baskets, hamburgers, and New Orleans style sandwiches. Our dinner features range from rib-eyes and hamburger steaks to seafood gumbo. Each weekend we feature an item that is not on our regular menu, usually a grilled fish or our customer favorite, a Louisiana-style Cajun boil.
Free live music for the guests of the marina and diners of the Bluegill Grill almost every Saturday night in the late spring and summer.
Pontoon boat and party barge rentals available each day from 9 am to 6 pm every day during the spring and summer, and when weather permits in the fall and winter. Cabin and room rentals are available all year. Holiday weekend and Saturday reservations for this summer are already booking quickly, call 931-455-3151 today to make yours!